April 20, 2018
Five Students Receive 1st Place Gold Medals at PA SkillsUSA Leadership Conference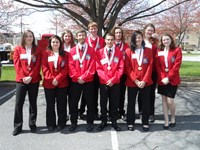 Front Row, L to R: Jennifer Wise, Alexandria Novosel, John Merroth Jr., Noah Romig, Lydia Kazakavage, Eric Hoffman-Aho, Back Row, L to R: Cinnamon Digan, Caleb Ross, Garrett Anselmo, Sydney Davis
Five students from SUN Area Technical Institute brought home first place go1d medals at the 51st Pennsylvania State SkillsUSA Leadership Conference held at the Hershey Convention Center and the Lebanon Expo, April 18-20.
SkillsUSA is a partnership of students, teachers and business and industry working together to ensure America has a skilled workforce. The student organization is geared specifically for students enrolled in career and technical training.
The state contests are designed and planned by representatives of labor and management alike to recognize the achievements of Career and Technical Education students as they strive for excellence and pride in their chosen professions and in positions of leadership.
First place, Gold Medal honors went to Cosmetology students Sydney Davis and her model Samantha Stephens in Esthetics; Lydia Kazakavage and her model Shenoa Brown in Nail Care. Welding students Cinnamon Digan in Job Skill O. Noah Romig, in Welding and Alexandria Novosel in Welding Sculpture.
Receiving Second Place Silver Medals for SUN Tech were Eric Hoffman -Aho in Prepared Speaking; and Caleb Ross, John Merroth Jr. and Jennifer Wise in Welding Fabrication.
Receiving a Third Place Bronze Medal was Garrett Anselmo in Industrial Motor Control Post-Secondary division.
Other SUN participants included: Lyra Bechdel, Thomas Fetterolf and Michael Tatar in Crime Scene Investigation, Vincent Bender, Ethan Richard, Daniel Marks and Cole Laubach in Team Works; Shaylene Laverio in Electronics; Devan Leister in Industrial Motor Control, secondary division; Derek Rodkey in Masonry and Carter Moyer in HVAC-R.
All first-place skill winners received tuition scholarships to the Pennsylvania College of Technology in the amount of $2,500.00 per year, second place winners received tuition scholarships in the amount of $1500.00 per year and third place winners received tuition scholarships in the amount of $1000.00 per year. Also, receiving additional prizes and awards were welding students Noah Romig and Alexandria Novosel who were awarded Welding Helmets, Lincoln Duffle bags, sleeves and gloves and JFLC Welding Project Books and 10,000 dollar scholarships to Ohio Technical College. The welding Fab team also received Welding books, gloves, jackets sand beanies as well as a $7,500.00 scholarships to Ohio Technical College.
First place winners will now advance to the SkillsUSA National Leadership and Skills Conference to be held in Louisville, Kentucky June 25-29.