April 20, 2018
Service 1st Announced Newly Appointed Board Members And Celebrated Employee/Volunteer Achievements at Annual Meeting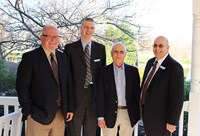 L to R: Bill Lavage, President/CEO; Eric Polczynski, Supervisory Committee Chairperson; O. Fred Miller, Supervisory Committee Member; and David Cutright, Treasurer, Service 1st Board of Directors
Service 1st Federal Credit Union held its Annual Meeting on Wednesday, April 18 at the Country Cupboard in Lewisburg. Over 250 members attended the meeting to review the past year and celebrate the Credit Union's milestones. During the meeting, newly elected board members were announced and the credit union honored a number of volunteers and employees.
David Cutright, CPA; Deborah Petretich Templeton, R. Ph. MHA; and Kathy Linn were re-elected; each to 3-year terms on the Service 1st Board of Directors. During the Reorganizational Meeting of Service 1st's Board of Directors, the following officers were elected to serve for the next 12-month period: Steven Endress, Chairperson; Tracy Shirk, Vice Chairperson; David Cutright, Treasurer; and Deborah Petretich Templeton, Secretary. Other Service 1st Board members include: Greg Burke, MD, FACP; Barbara Criswell; Harold Hurst, and Lori Wilson.
The evening included special presentations honoring David Cutright for his service as Board Chairperson over the past six years, and founding member and Board Director Barbara Criswell.
"Our Annual Meeting provides the perfect opportunity to share the milestones we achieved over the past year with our members," stated Bill Lavage, President/CEO. "A special thank you to Dave Cutright for serving as our Board Chair over the past six years. Dave provided solid leadership and direction. The results of his leadership are evidenced by our growth, accomplishments and strong financial performance. We look forward to continued success in 2018 under the leadership of Steve Endress."
Service awards were presented to volunteers and employees. Volunteers honored included Eric Polczynski, Supervisory Committee Chairperson, 10 years and O. Fred Miller, Supervisory Committee Member, 20 years. Employees honored included Coleen Snover, Assistant Vice President Training and Development, 5 years; Ed Moyer, Assistant Vice President Shamokin Dam and Sunbury Markets, 5 years; Matt Gardill, FSS Universal Agent, 5 years; Sue Laubach, Member Service Representative II, 5 years; Christopher Court, Vice President Accounting and Operations, 10 years; Karen Wood, Chief Experience Officer, 10 years; Traci Herbst, Indirect Lending Coordinator, 10 years; Jeff Balestrini, Chief Lending Officer, 15 years; and Mary Jo Martin, Assistant Vice President Williamsport Market, 15 years.
For more information, contact Service 1st at 1.800.562.6049 or visit www.service1.org.