July 01, 2018
Member Celebration is a huge success!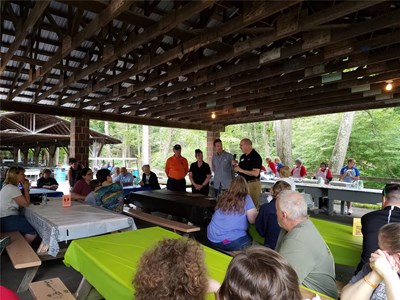 The Webster's Dictionary defines success as the accomplishment of an aim or purpose. On Friday, June 22 the Greater Susquehanna Valley Chamber of Commerce (GSVCC) Membership Celebration, based on this definition can be deemed a huge success. The evening was filled with lively conversation among the nearly 150 Chamber members and their guests, who attended this inaugural event.
The GSVCC Chairman, John Uehling, kicked off the evening by thanking the event sponsors. The sponsors included: First National Bank (Premier Sponsor), Geisinger (Table Sponsor), and Steve Minker (Beverage Sponsor). He also extended a word of gratitude to National Beef for donating the hamburgers and Tulpehocken for donating the water for the event.
The purpose of the Member Celebration was to encourage Chamber members to enjoy an evening out and to celebrate the prosperity of their fellow Chamber members. One key to the prosperity for the Chamber is its President/CEO, Bob Garrett. Bob dedicates his time and efforts to ensuring that the Chamber stays focused on its goals and in assisting its members to prosper.
In an effort to recognize Bob's efforts, the GSVCC Board used the Member Celebration as an opportunity to announce a 60-day campaign in honor of his 60th birthday. Everyone in attendance was a part of this announcement as we celebrated Bob's birthday, which just happened to be Friday, June 22.
The Greater Susquehanna Valley Chamber of Commerce, kicked off this 60 day donation campaign by donating $200.00 to the Boy Scouts of America. This donation will be used to purchase a patio paver that will be placed in honor of Bob, in the new patio being constructed at Camp Karoondinha. For those of you who know Bob, you are aware of his lifelong commitment to in the Boy Scouts of America, specifically Camp Karoondinha and it is a great passion of his.
GSVCC Chairman, John Uehling, invited all attendees to join in the celebration by making their own donation to the Boy Scouts of America in honor of Bob and his contributions to the Greater Susquehanna Valley.
We are inviting you, all community members and businesses, to participate in the celebration by making a donation to the Boy Scouts of America. This special, 60 day campaign will continue thru August 21, 2018.
If you would like to make a donation, we encourage you to contact The Boy Scouts of America directly, to learn how your fully tax deductible donation can be made.
Boy Scouts of America Contacts:
Walt Howell Cecelia Joyce
570-326-5121 Ext 100 570-326-5121 Ext 10
walter.howell@scouting.org Cecelia.joyce@scouting.org
Thank you for your consideration of participating in this worthy campaign in Bob's honor.