Greater Susquehanna
Valley Chamber of Commerce
Upcoming Events
08 / Dec
Year End Meet & Greet
Come out and celebrate the season with friends! Learn what a valuable resource the Central Susquehanna Intermediate Unit can be to your community.
18 / Feb
4th Annual Winter Wine Fest
Celebrate the Valley's vineyards and their premier wines, paired with class hors d'oeuvres and delicious desserts. Tickets sales are expected to begin on Monday, December 5, 2016.
Welcome New Members
Denise Prince, Associate Member
Erin Sears, Young Professional
Sara Lauver, Young Professional
Stephen Stahl, Young Professional
What Our Members Say
Susquehanna University's health and success is bound up in its partnerships across the region. Leadership Susquehanna Valley, the Women's Leadership Symposium, economic development activities, and other GSVCC programs and events bring value to our organization and to our employees/colleagues. Ultimately, the chamber helps us to do a better job serving our primary audience: our students.

Ron Cohen, Susquehanna University
For nearly 45 years the Chamber old and new, has been an integral part of growing my business. Membership is a way to give back to community and receive rewards for your efforts.

Art Bowen, Bowen Agency Realtors
We believe in supporting the area where we live and work. The Chamber gives us the opportunity to stay informed through business, political, and social events. The Chamber's work in our community to improve business opportunities has been top notch. We are proud to be a chair sponsor every year.

Julie Eriksson, Kreamer Feed, Inc.
Nottingham Village Senior Living Community's long time membership with The Greater Susquehanna Valley Chamber of Commerce has proven to be a worthwhile partnership for both. Every year membership and participation has been a very important part of our marketing plan. In our 40 years of shaping the future of senior living, we count our chamber membership very high on the list of importance.

Judi Karr, Nottingham Village Senior Living Community
I can't tell you how beneficial my involvement with the Greater Susquehanna Valley Chamber of Commerce has been! Because of the GSVCC I have met so many of the wonderful people in our community, people I never would have met otherwise. It's been such an important part of my success!!!

Sharon Piccioni, AgChoice Farm Credit
The services provided by the GSVCC are tools for success. We attended a Small Business Support Group seminar and learned about a grant opportunity offered through the Pennsylvania Technical Assistance Program. We applied and were awarded a grant to purchase equipment for our cloud-based document management. The Chamber is always looking for new ways to make their members successful

Karen Metz, Keystone Mobile Shredding/Keystone Document Solutions
Member Resources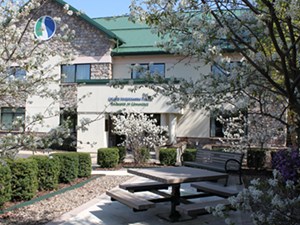 Benefits/Services
See the benefits to becoming a Chair's Circle Member.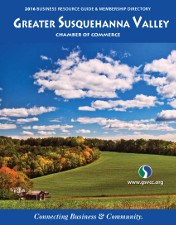 Publications
See our publications including the the 2016 Business Resource Guide & Membership Directory and Voice of the Valley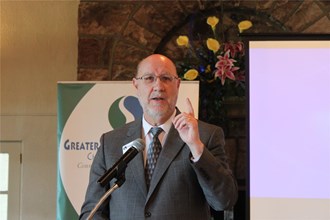 Chamber Spotlight
Updates on bypass outlook & progress